Description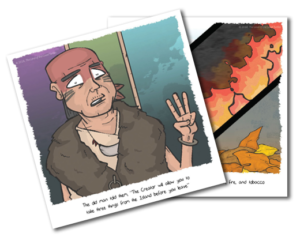 When the Creator gave the Cherokee people a beautiful island with everything they could ever need, it came with only one rule – to take care of the land and the animals living there. But, what happens when the children decide to play instead of taking care of their responsibilities?
The Land of the Great Turtles is a colorful and fun retelling of a well-known Cherokee story, meant to be read aloud – to continue the age-old tradition of sharing between generations.
---
"Responsibilities and loyalties to your customs and your people are paramount to the Cherokee Indians. Consequences happen when you go astray as you will learn in this story. The pictures and illustrations help to show the fear in the children when they realize what they did and that they will pay for their wrong doings. The faces of the parents show fear but will they in the future explain to their children that they have to follow the rules and they will have consequences if they don't? Family loyalties, hope, fear, relationships and a great book to teach children about the Cherokee Indians, listening to the rules, responsibility and understanding and not following someone that does the wrong thing because it looks like fun. A great book for children and young middle school children to read. Added in they might create their own ending to the story or what they think the Creator should have done or not done to the people on this island." —Fran Lewis, Just Reviews / MJ Magazine, author, educator, and radio host
Interview with the author and illustrator by Traci Sorell for Cynsations. Read the entire interview here.
---
About the Author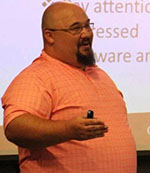 Brad Wagnon is a Cherokee storyteller. He works for the Cherokee Nation in Tahlequah, Oklahoma, as a technical assistance specialist for Cherokee Nation Community and Cultural Outreach.
About the Illustrator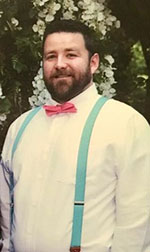 Alex Stephenson writes and illustrates children's books as well as comics. He works for the Cherokee Nation in Tahlequah, Oklahoma, as a licensed professional counselor for W. W. Hastings Hospital.